Trusted Leader in the Concrete Formwork Industry
Looking for an

Exciting Job ?
You will Find it at Synergy Formwork!
The success of a company lies in the strengths of each employee put to use in order to increase its progress. Team spirit is a priority at Synergy Formwork. The company relies on the uniqueness of its members by organizing breakfasts and several annual gatherings to which employees are invited along with their family. Our Synergy is based on an optimal internal communication as well as healthy and respectful work relationships. All these elements contribute to the success of our projects. Each member of the Synergy team is at the heart of the culture and success of our company.
The DNA of Synergy is based on several key factors that positively influence our performance and relationships with our partners. Our company relies on uniqueness. We meet challenges as a team by putting in place effective measures that contribute to our daily progress. Collaboration between the various stakeholders allows us to achieve all our objectives.
PASSIONATE


employees

Our motivated employees make Synergy Formwork a company of choice for those looking for a quality workplace. The commitment of our team members is the essence of the company's success. It is thanks to their dedication that Synergy Formwork has become the trusted leader in the concrete formwork industry. As a result, our organization offers a stimulating work environment that allows each employee to thrive in a team of dedicated, committed, and passionate professionals.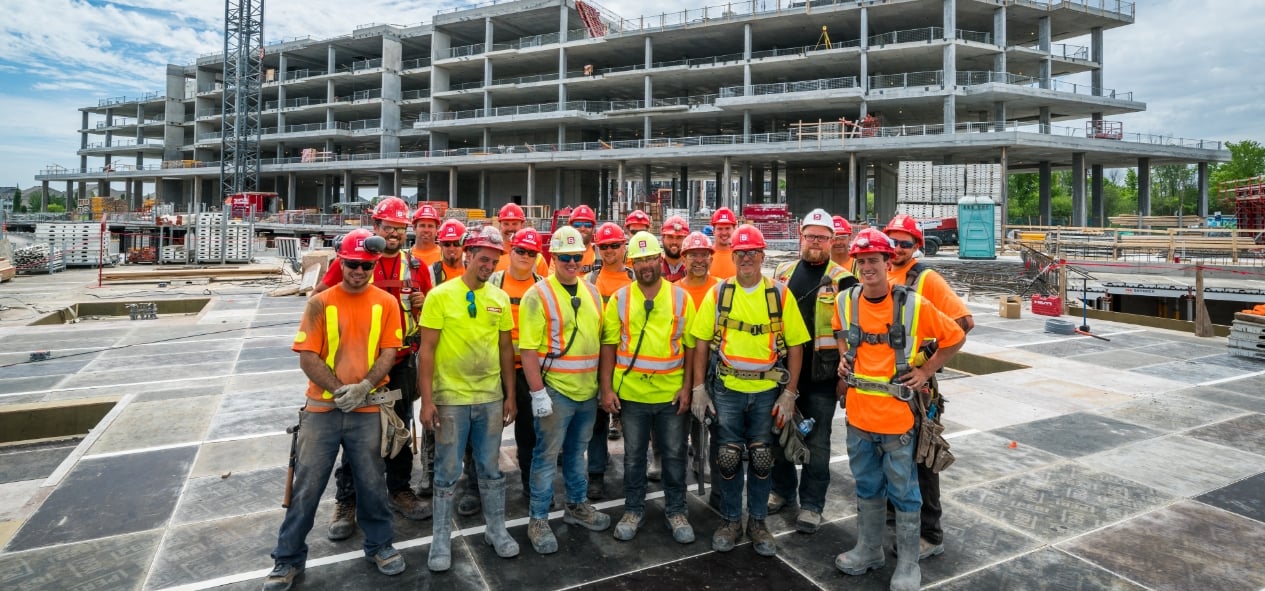 Synergy Formwork: An Employer of Choice
Unique
Benefits
for All Our
EMPLOYEES
Team Spirit Is A Priority At Synergy Formwork
In addition to performing a challenging job in a friendly work environment, Synergy Formwork employees have access to a multitude of benefits. The company focuses, among other things, on continuous training of its workforce. All the necessary resources are put in place for the employees to develop their potential and deepen their know-how. The company believes that its employees must thrive in a safe environment that promotes teamwork and a sense of belonging. Synergy Formwork provides job security to all its workers. Moreover, it is important to recognize their dedication to the company by providing benefits and services exclusive to Synergy employees (social events, contests, carpooling, cooking, etc.).
Our Drivers/Messengers
With a fleet of over 69 high-quality road vehicles, Synergy Formwork allows its employees to travel to their respective construction site in one of our vehicles. In 2016, we acquired six Chevrolet Volts. With messengers traveling daily to meet internal demands, the decision was unanimous that the purchase of the vehicle that won the 2016 Canadian Green Car Award was a wise and innovative choice. In addition, our messengers accompany our employees on the road — they drive any team member to our construction sites, be it upper management members, project managers, or others. In terms of safety, this ensures that our employees travel with a clear head, avoiding any disturbance while driving. Moreover, we provide our team members with the technological tools to perform their tasks and be productive even on the go.
Cafeteria
Synergy Formwork offers a meal service for breakfast and lunch to all its employees. From 3:30 am, a cook is ready to prepare the meal of their choice. Without representing a monetary value, this advantage is a privilege for our team.
English Classes
Synergy Formwork also offers English classes with a private teacher. These classes allow employees to surpass themselves while leaving their usual work routine. In addition, the improved English communication skills within the team are greatly used for our projects in English-speaking regions.
Massage
Synergy Formwork offers the services of a professional and mobile massage therapist. This is how we recognize our team's well-being—by offering them a service that allows them to avoid muscle soreness, relax, and release the accumulated tension.
Safe Work Environment
With the same goal of developing the company and ensuring the well-being of its employees, Synergy Formwork offers a work environment where health and safety are priorities. Thus, the most rigorous risk prevention measures are taken into account, everything is done to counter the hazards and maintain the highest industry standards. We have a team specifically dedicated to health and safety; this team includes a prevention advisor who—through numerous visits and audits—ensures the safety of construction sites daily.